Away from the large crowds and hotels, we offer an experience that is unique in comparison to a traditional beach vacation. Come feel the serenity, privacy, and comfortable living space of a townhouse on the bay. Our goal is to provide a memorable family vacation that will fit every budget. Each townhouse is at least 4 BR, 3.5 Bath and ranges from 2360 sq ft to 3000 sq ft of vacation living.
General Information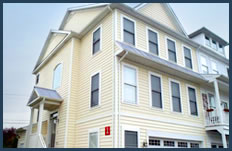 The Boathouse

13008 Bowline Lane | Ocean City, MD 21842
This end unit was named the Boathouse because we always wanted a unit large enough to accommodate a boat so we can enjoy the bay. Now that we have the unit, all we need is the boat! This townhouse features 5 bedrooms, 3.5 bath and 3000 sq ft. It offers a private entrance into the unit and walk-out patio. Featuring a huge living room, gourmet granite kitchen with breakfast area and fireplace with seating — it has more than enough space to comfortably accommodate two or even three large families.
Amenities
Bedrooms & Baths

5 Bedrooms (Queen, Queen, Queen, Full, Full)
Queen Pull-out Sofa
3.5 Baths

Sleeps 8-14
Master Suite w/ Large Soaking Bathtub and Shower
Walk-In Closet in Master Suite

Kitchen & Other Home Areas

3000 sq ft with Open Floor Plan
Gourmet Kitchen with Granite Countertops
Microwave
Toaster Oven
Dishwasher
Coffee Maker
Ice Maker
Top Loading Washer and Dryer

2 Common/Living Areas
3 Eating Areas
Fireplace
Back Deck w/ Patio Furniture
Walk-Out Patio
2 Total Outside Seating Areas
9ft High Ceilings

Entertainment

50" LED Flat Screen TV
TV (4)
Wireless Internet
Cable TV

DVD Player
CD Player
iPod Hook-Up with Speakers
Books

Miscellaneous

Community Pool
Community Fitness Center w/ Shower
Keyless Entry
Central Air Conditioning

Central Heating
Alarm Clocks
2 Private Parking Spaces
Up to 2 Additional Parking Spaces Available
Availibility and Rates
Off-Peak Weeks - $1400 - $2200 (Negotiable depending on availability and time of year)
Peak Weeks - $2700 - $3900 (Memorial Day to Labor Day and Holidays)
Half weeks also available: Sunday to Thursday or Thursday to Sunday (call for rates)
Groups, Events and Graduating Seniors please call for rates. We only accept groups of 6-8 people for Senior Week.

Open


Already Booked
June 2018
S
M
T
W
T
F
S
1
2
3
4
5
6
7
8
9
10
11
12
13
14
15
16
17
18
19
20
21
22
23
24
25
26
27
28
29
30

July 2018
S
M
T
W
T
F
S
1
2
3
4
5
6
7
8
9
10
11
12
13
14
15
16
17
18
19
20
21
22
23
24
25
26
27
28
29
30
31

August 2018
S
M
T
W
T
F
S
1
2
3
4
5
6
7
8
9
10
11
12
13
14
15
16
17
18
19
20
21
22
23
24
25
26
27
28
29
30
31

September 2018
S
M
T
W
T
F
S
1
2
3
4
5
6
7
8
9
10
11
12
13
14
15
16
17
18
19
20
21
22
23
24
25
26
27
28
29
30

October 2018
S
M
T
W
T
F
S
1
2
3
4
5
6
7
8
9
10
11
12
13
14
15
16
17
18
19
20
21
22
23
24
25
26
27
28
29
30
31

November 2018
S
M
T
W
T
F
S
1
2
3
4
5
6
7
8
9
10
11
12
13
14
15
16
17
18
19
20
21
22
23
24
25
26
27
28
29
30

December 2018
S
M
T
W
T
F
S
1
2
3
4
5
6
7
8
9
10
11
12
13
14
15
16
17
18
19
20
21
22
23
24
25
26
27
28
29
30
31

January 2019
S
M
T
W
T
F
S
1
2
3
4
5
6
7
8
9
10
11
12
13
14
15
16
17
18
19
20
21
22
23
24
25
26
27
28
29
30
31

February 2019
S
M
T
W
T
F
S
1
2
3
4
5
6
7
8
9
10
11
12
13
14
15
16
17
18
19
20
21
22
23
24
25
26
27
28

March 2019
S
M
T
W
T
F
S
1
2
3
4
5
6
7
8
9
10
11
12
13
14
15
16
17
18
19
20
21
22
23
24
25
26
27
28
29
30
31

April 2019
S
M
T
W
T
F
S
1
2
3
4
5
6
7
8
9
10
11
12
13
14
15
16
17
18
19
20
21
22
23
24
25
26
27
28
29
30

May 2019
S
M
T
W
T
F
S
1
2
3
4
5
6
7
8
9
10
11
12
13
14
15
16
17
18
19
20
21
22
23
24
25
26
27
28
29
30
31
Gallery