Away from the large crowds and hotels, we offer an experience that is unique in comparison to a traditional beach vacation. Come feel the serenity, privacy, and comfortable living space of a townhouse on the bay. Our goal is to provide a memorable family vacation that will fit every budget. Each townhouse is at least 4 BR, 3.5 Bath and ranges from 2360 sq ft to 3000 sq ft of vacation living.
General Information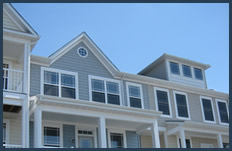 The Bowline

13008 Bowline Lane | Ocean City, MD 21842
This is our flagship townhouse. It is situated in front of the bay with breathtaking views from almost every room. This unit is named after the road it sits on but also because it was the first property we purchased in West Ocean City. We like to think that unit started it all; hence it ties everything together like the knot, the "Bowline". It has 2700 sq ft, 4 bedrooms, 3.5 baths and 2 master suites in this unit, so families vacationing together will feel they are all getting "the best room" in the house. Upgraded amenities throughout makes this unit a luxury home away from home.
Amenities
Bedrooms & Baths

4 Bedrooms (King, King, Queen, Queen)
Additional Full Mattress stored in Master Bedroom Closet
3.5 Baths
Sectional Sleeps 2

Sleeps 8-12
First Master Suite w/ Large Soaking Bathtub, Shower and Private Deck
Second Master Suite w/ Full Bath and Outdoor Patio
2 Walk-In Closets

Kitchen & Other Home Areas

Gourmet Kitchen with Granite Countertops
Stainless Steel Cooking Hood
Microwave
Dishwasher
Coffee Maker
Ice Maker
Bamboo Flooring

Front Loading Washer and Dryer
2 Private Decks w/ Bay View
Third Deck Overlooking Community
Private Patio w/ Bay View
4 Total Outside Seating Areas
Open Floor Plan
9ft High Ceilings

Entertainment

50" LED Flat screen TV
TV (3)
Wireless Internet
Cable TV
DVD Player

CD Player
iPod Hook-Up & Speakers
Stereo
Books

Miscellaneous

Community Pool
Community Fitness Center w/ Shower
Keyless Entry
Dual Zone Air Conditioning

Central Heating
Alarm Clocks
2 Private Parking Spaces
Up to 2 Additional Parking Spaces Available
Availibility and Rates
Off-Peak Weeks - $1400 - $2200 (Negotiable depending on availability and time of year)
Peak Weeks - $2700 - $3900 (Memorial Day to Labor Day and Holidays)
Half weeks also available: Sunday to Thursday or Thursday to Sunday (call for rates)
Groups, Events and Graduating Seniors please call for rates. We only accept groups of 6-8 people for Senior Week.

Open


Already Booked
June 2018
S
M
T
W
T
F
S
1
2
3
4
5
6
7
8
9
10
11
12
13
14
15
16
17
18
19
20
21
22
23
24
25
26
27
28
29
30

July 2018
S
M
T
W
T
F
S
1
2
3
4
5
6
7
8
9
10
11
12
13
14
15
16
17
18
19
20
21
22
23
24
25
26
27
28
29
30
31

August 2018
S
M
T
W
T
F
S
1
2
3
4
5
6
7
8
9
10
11
12
13
14
15
16
17
18
19
20
21
22
23
24
25
26
27
28
29
30
31

September 2018
S
M
T
W
T
F
S
1
2
3
4
5
6
7
8
9
10
11
12
13
14
15
16
17
18
19
20
21
22
23
24
25
26
27
28
29
30

October 2018
S
M
T
W
T
F
S
1
2
3
4
5
6
7
8
9
10
11
12
13
14
15
16
17
18
19
20
21
22
23
24
25
26
27
28
29
30
31

November 2018
S
M
T
W
T
F
S
1
2
3
4
5
6
7
8
9
10
11
12
13
14
15
16
17
18
19
20
21
22
23
24
25
26
27
28
29
30

December 2018
S
M
T
W
T
F
S
1
2
3
4
5
6
7
8
9
10
11
12
13
14
15
16
17
18
19
20
21
22
23
24
25
26
27
28
29
30
31

January 2019
S
M
T
W
T
F
S
1
2
3
4
5
6
7
8
9
10
11
12
13
14
15
16
17
18
19
20
21
22
23
24
25
26
27
28
29
30
31

February 2019
S
M
T
W
T
F
S
1
2
3
4
5
6
7
8
9
10
11
12
13
14
15
16
17
18
19
20
21
22
23
24
25
26
27
28

March 2019
S
M
T
W
T
F
S
1
2
3
4
5
6
7
8
9
10
11
12
13
14
15
16
17
18
19
20
21
22
23
24
25
26
27
28
29
30
31

April 2019
S
M
T
W
T
F
S
1
2
3
4
5
6
7
8
9
10
11
12
13
14
15
16
17
18
19
20
21
22
23
24
25
26
27
28
29
30

May 2019
S
M
T
W
T
F
S
1
2
3
4
5
6
7
8
9
10
11
12
13
14
15
16
17
18
19
20
21
22
23
24
25
26
27
28
29
30
31
Gallery